Polish world record holder Patrycja Bernowska improved her own world record to  258.339km when winning the women's title at the  IAU World 24-Hour Championships in Victoria Park,Belfast yesterday. In February, Bernowska stretched the eight year old record to 252.6 kms at the Polish Championships. Translating her result to miles, she become the first woman to run further than 160 miles in 24 hours.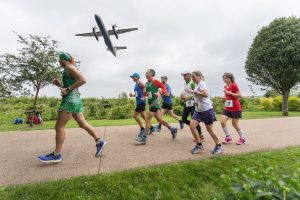 Finishing second behind her at Victory Park was her Polish team mate Aleksandra Niwinska who ran 251,078km. Defending world champion Katalin Nagy of the USA finished third and helped the USA to  a narrow team victory over Poland. Best of the Irish was Amy Masner who finished 17th with 228, 582 km – less than a kilometre off the Irish record.
Winning a closely fought men's title was Yoshihiko Ishikawa  of Japan with a total a of 267.566km. One kilometre adrift was Johan Steel of Sweden, with Sebastian Bialobrzeski of Poland a close third. Ireland's Eoin Keith finished 18th  having run 246,784km. Not too far behind him with 242.662km was Tim Brownlie. Alex O'Shea  of St Finbarr's AC ran 241,192 kilometres/149.87 miles  to win the open race and finish third of the Irish men. Japan comfortably  beat Poland for the team title.
World 24 Hour Championships, Victoria Park, Belfast
Women (131 finishers): 1 Patrycja Bernowska (Pol) 258,339km/160,532 miles (world rec); 2 Aleksandra Niwinska (Pol) 251,078km/156,020 miles; 3 Katalin Nagy (USA) 248,970km/154,710 miles. Irish: 17 Amy Masner 228,581km/142,040 miles; 38 Louise Smart 205,608km/127,765 miles; 40 Susan McCartney 203,883km/126,693km; 60 Catherine Guthrie 192,339km/119,519 miles; 70 Yvonne Naughton 181,391km/112,716 miles, 108 Ruthann Sheahan 135,464km/84,177 miles. Teams (24) – 1 USA 740,856, 2 Poland 740,234, 3 Germany 689,622….8 Ireland 638,072.
Men (159 finishers) : 1 Yoshihiko Ishikawa (JPN) 267.566km/166.266 miles; 2 Johan Steele (Swe) 266.515km/165.613miles; 3 Sebastian Bialobrzeski (Pol) 265.535km/165.003 miles. Irish: 18 Eoin Keith 246,784km/153.352 miles; 26 Tim Brownlie 242.662km/150,790 miles; ?? Alex O'Shea 241,192 km/149.87 miles; 55 Eddie Gallen 222.591km/138,318 miles; 58 Aidan Hogan 219,053km/136,966 miles; 71 Daragh O'Loughlin 211,866km/131,622 mils; 95 Malcolm Gamble 192,394km/119,553 miles. Teams (28)- 1 Japan 783,159; 2 Poland 763,630, 3 USA 755,458….9 Ireland 712,037.
AI National 24-hour Championships:
Men:  1 Eoin Keith 153.35 miles, 2 Tim Brownlie (Willowfield Harriers) 150.79 miles, 3 Alex O'Shea (St Finbarr's AC) 149.87 miles
Women: 1Amy Masner 142.04 miles, 2Louise Smart (County Antrim Harriers) 127.76 miles, 3 Susan McCartney (BARF) 126.93 miles