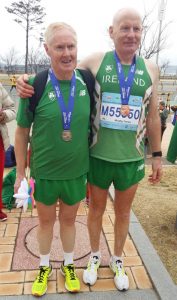 Geraldine Finegan of North East Runners is Ireland's latest gold medal winner on the penultimate day at the World Masters Indoors in Daegu, South Korea.
Finegan won the W50 in emphatic style scoring higher than her six opponents in all five disciplines. She started with 9.92 secs in the 60m hurdles for 1,004 points and followed that with 1.39 in the high jump (855 pts), 10.57 shot (749), 4.12 long jump (603) and 2:50.47 for 800m (712). Finegan also finished third in the 60m hurdles in 10.22 secs.
In the walks, John McMullin finished second in the M70 10km in 59 mins 17 seconds. Pat Murphy was third M55 in 52 mins 18 secs and Ann Gormley 4th W50 in 69: 46.  In the 400m heats, DSD's Shane Sheridan failed to finish in the first heat, where Michael Cornyn of Dunboyne finished 4th and goes into the final as a fastest loser.