Ireland's pitch and putt team won a third consecutive World Cup when they beat Catalonia in the tournament final in Xixerella, Andorra yesterday.
Team captain Eamon Gibney from Castletown, Co Meath was the hero of the team winning the deciding singles against Marc Lloret on the 18th hole to secure a 3-2 victory for the Irish.
In the opening session, Gibney and John Ross Crangle from Loughlinstown had lost a foursomes to Lloret and Enric Sanz by 2 and 1, but  Irish No 1, John Walsh from Collins, Cork then leveled the score when he beat Josep Martinez 5 and 4 in his singles.
He lost to Martinez in their second encounter but victory for Crangle against Martinez saw the score level at 2-2 with only the singles between Gibney and Lloret to play. Gibney held his nerve to close out the match for a 1up victory.
Hockey: Six Nations Tournament Valencia – Ireland 0, Germany 2 (Furste, Herzbruch)
Goals for Germany after the fifth penalty of the match and again in the 55th minute gave them a solid victory over the Irish men's hockey team in their final match of the Six Nations Tournament in Valencia, Spain.
The Germans, ranked world No 1, found themselves frustrated by a composed Irish defense after the initial flourishes in the first half. Ireland's best chance came after John Jermyn picked up a pass from Mikie Watt on the counter-attack. Two similar chances came the way of the Irish in the final five minutes of the half, when Alan Sothern bulldozed his way into the circle and Watt charged along the baseline.
After Moritz Furste put the Germans ahead, the Irish again counter attacked. Pembroke teammates Sothern and Kirk Shimmins linked up down the right side, with Shimmins drawing a high save. A diving Sothern very nearly got on the end of a ball across the circle, while moments later, Eugene Magee saw his shot sail over the bar. However a wayward ball across the Irish circle was seized on by Timm Herzbruch who duly fired home a second goal for the Germans.
The Irish men are back in action tomorrow when they play the Netherlands in the Fexco Match Series at UCC, Cork (7pm). Tickets at the gate.
Team:  Carr, Jackson, Gormley, Watt, Cargo, Jermyn, Magee, Darling, Good, Gleghorne (capt), C Harte. Subs: D Harte, J Bell, Watkins, Sothern, Shimmins, M Bell, Robson.
EQUESTRIAN: Rio-bound Reynolds fourth in Austria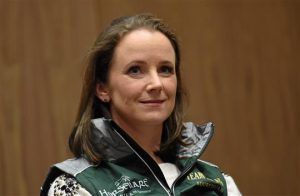 IRISH Dressage rider Judy Reynolds continued her preparations for the Olympic Games in Rio, with a fourth place in today's Grand Prix Special at the four-star show at Fritzens-Schindlhof in Austria.
Reynolds produced a score of 72.039% with the gelding Vancouver K, who is owned by her parents Joe and Kathleen Reynolds. Five-time Olympic Gold medallist Isabell Werth took the winners prize with Emilio, ahead of fellow German rider Jessica Von Bredow in second. Reynolds finished less than one percent behind Anna Nolte (GER) who took the third spot on the podium.
Reynolds is one of seven Irish riders who will represent Ireland in Rio. She will be joined by show jumper Greg Broderick, the Irish eventing team of Clare Abbott, Jonty Evans, Mark Kyle and Padraig McCarthy, along with one Paralympic rider.
Meanwhile at the two-star Belgian Show Jumping fixture in Knokke, Kilkenny's Ivan Dalton won this morning's Grand Prix riding Umano Des Dragons and collected a new Mini Moke car for his victory.  Indeed Irish riders were in superb form todayat shows throughout Europe, scoring a host of top ten placings in Grand Prix classes, adding to more prize winning results for Ireland in The United States on Saturday evening.
Cian O'Connor and Greg Broderick both featured among the prizes in the five-star Grand Prix at Knokke, with O'Connor 6th and Broderick 8th. Broderick had begun began the day with a fifth place finish aboard Zuidam in a speed class.
Tipperary's Denis Lynch  finished fourth in the speed class at the five-star Global Champions Tour show in Paris with the stallion All Star 5.
At the three-star Dutch fixture in Arnhem, Mayo's Cameron Hanley finished fourth in the Grand Prix with his new mount, Falco Van Spieveld.
Another Mayo rider, Jack Dodd, finished seventh in the Italian Grand Prix at Selva Di al Gardena with Quarto Mail, while Co Clare's David Blake also finished seventh in the $130,000 Adequan Grand Prix at Tryon in North Carolina USA.
Co Down's Conor Swail continued his superb recent run of form in North America, with a runner-up finish in Saturday evening's $375,000 Pan American Cup at Spruce Meadows in Canada with the 10-year-old stallion Grafton.