John Travers of Donore Harriers outsprinted Paul Robinson of St Coca's for victory in a thrilling men's 1500m at the Irish Life Health National Indoors in Abbotstown.
Travers was timed at 3:50.44 to Robinson's 3:50.55 with Raheny's Cillian Kirwan coming from behind to finish third in 3:54.65. Olympic steeplechaser Kerry O'Flaherty of Newcastle was a comfortable winner of the women's race in 4:20.86.
Ciara Neville of Emerald added the senior women's 60 title to her junior crown but only after close examination of the photo finish, Neville won in 7.43 seconds from Bandon's Joan Healy and Molly Scott of St Laurence O'Toole who were both timed at 7.45.
In the 400m, Phil Healy of Bandon beat Sinead Denny of DSD in a European indoor qualifying time of 53.49 seconds. Denny also dipped under the standard (53.75) with her time of 53.74.
Clonliffe's Brian Gregan won the men's 400m in 46.59 holding off British-born Luke Lennon-Ford who finished in 47.05 secs; . Lennon-Ford has taken silver and bronze medals with the British 4×400m team at three World Indoor Championships between 2010 and 2014, and ran for Britain at the 2012 Olympics. He has struggled with injury for the past three years. A member of Birchfield Harriers and coached by Linford Christie, his mother comes from Tallaght and he's declared for Ireland, with his  application passed before the recent international freeze on transnational transfers.
Leon Reid, who also runs for Birchfield Harriers in the UK but is affiliated to Northern Ireland, won both the 60m in 6.74 seconds and the 200m in 21.08. Sharlene Mawdsley of Newport won the women's 200m in 24.04 – not as fast as the Irish junior record of 23.85 she ran in the heats, but enough to beat Mid-Sutton's Sarah Carthy who was clocked at 24.06.
In the 800m, Raheny's Kieran Kelly was winning his first national title in a time of 1:56.00; Fiona Kehoe of Kilmore won the women's 800m in in 2:08.17.
A day after competing at the Birmingham Grand Prix, Ben Reynolds of North Down won the men's 60m hurdles in 7.83 secs; multi-eventer Elizabeth Morland of Cushinstown took the women's title in 8.50 secs.
No surprises in the women's triple jump won by Saragh Buggy of St Abban's with a leap of 12.86m, or in the men's long jump where a 7.59m effort was enough to give Adam McMullen of Crusaders his sixth successive title with a best of 7.59m. An impressive winner of the men's shot was Finn Valley's John Kelly with a heave of 17.02m.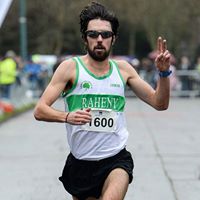 RAHENY'S Mick Clohisey, who runs the London Marathon in April, was a comfortable winner of the Enniscorthy 10km in a time of  29 mins 59 secs.   In the battle for second place, Valdas Dopolskas  of Balbrigan held off  Kevin Maunsell  from Clonmel and previous winner Alan O'Shea of Bantry, with four seconds separating the three of them.  A strong squad from DSD was in action led by Rob Corbally, who finished fifth, one place ahead of  team mates Killian Mooney who was last year's winner, and Paul O'Donnell  who finished first U20.
On a good day for DSD, Meaghan Ryan was first women in 36 mins 47 secs, with Sally Forristal of St Joseph's second and Annaleigh Hoare of Kilmore third.
AMY FOSTER of City of Lisburn clocked 11.42 secs for third place in the 100m in ACCT Championships in Australia, which is a Commonwealth Games qualification time.
CATHERINE Whoriskey of City of Derry Spartans clocked a time of 2 hrs 28 mins 40 secs in her debut marathon at Seville. Whoriskey has produced a string of good results over the past year, most notably winning the Waterside Half Marathon.
Results
Irish Life Health National Indoors, Abbotstown
Women
60m:1 Ciara Neville (Emerald) 7.43, 2 Joan Healy (Bandon) 7.45, 3 Molly Scott (SLOT) 7.45. 200m: 1 Sharlene Mawdsley (Newport) 24.04, 2 Sarah McCarthy (Mid Sutton) 24.06, 3 Cliodhna Manning (KCH) 24.44. 400m: 1 Phil Healy (Bandon) 53.49, 2 Sinead Denny (DSD) 53.74, 3 Mandy Gault (Lagan Valley) 55.06. 800m: 1 Fiona Kehoe (Kilmore) 2:08.17, 2 Alanna Lally (UCD) 2:08.37, 3 Erin McIlveen (City of Lisburn) 2:08.59. 1500m: 1 Kerry O'Flaherty (Newcastle) 4:20.86, 2 Ellie Hartnett (UCD) 4:25.71, 3 Nadia Power (Templeogue) 4:31.11. 3,000m: 1 Ciara Mageean (UCD) 9:08.83, 2 Michelle Finn (Leevale) 9:12.61, 3 Fionnuala McCormack (Kilcoole) 9:15.58. 60m hurdles: 1 Elizabeth Morland (Cushinstown) 8.50, 2. Catherine McManus (DCH) 8.55, 3. Lilly-Ann O'Hora (Dooneen) 8.67. 3,000m walk: 1 Kate Veale (West Waterford) 14:03.90, 2 Emma Prendiville (Farranfore MV) 14:06.54, 3 Maeve Curley (Craughwell) 14:18.26. Long jump: 1 Sarah McCarthy (Mid Sutton) 6.03, 2 Ruby Millet (St Abban's) 5.69, 3 Aoibheann O'Brien (Tralee Harriers) 5.57. Triple jump: 1 Saragh Buggy (St Abban's) 12.86, 2 Lynda Ngankam (Donore Hrs) 11.27, 3 Solange Diogo (GCH) 11.24. High jump: 1 Sommer Lecky (Finn Valley) 1.81, 2 Emily Rogers (St Peter's) 1.75, 3. Grace O'Rourke (DSD) 1.70. Pole vault: 1Ellen McCartney (City of Lisburn) 3.40, 2 Claire Wilkinson (Ballymena & Antrim) 3.40, Emma Coffey (Carraig na bhFear) 3.20. Shot: 1 Michaela Walsh (Swinford) 14.95, 2 Alana Frattaroli (Limerick) 13.29, 3 Fiona Moloney (Dooneen) 12.76.
Men
60m: 1 Leon Reid (Menapians) 6.74, 2. Eoin Doherty (Tallaght) 6.81, 3.Dean Adams (Ballymena & Antrim) 6.87. 200m: 1 Leon Reid (Menapians) 21.08, 2 David McDonald (Menapians) 21.51, 3 Eanna Madden (Carrick-on-Shannon) 21.66. 400m: 1 Brian Gregan (Clonliffe Hrs) 46.59, 2 Luke Lennon-Ford (Clonliffe Hrs) 47.05, 3 Brandon Arrey (Blarney/Inniscara) 48.03. 800m: 1 Kieran Kelly (Raheny Shamrock) 1:56.0, 2 Kevin McGrath (Bohermeen) 1:56.22, 3 Niall Tuohy (Ferrybank) 1:56.53. 1500m: 1 John Travers (Donore Hrs) 3:50.44, 2 Paul Robinson (St Coca's) 3:50.55, 3 Cillian Kirwan (Raheny Shamrock) 3:54.65. 3,000m: 1 Eoin Everard (KCH) 8:19.69, 2 William Maunsell (Clonmel) 8:22.46, 3 Rory Chesser (Ennis Track) 8:23.34. 60m hurdles: 1 Ben Reynolds (Nth Down) 7.83, 2. Gerard O'Donnell (Carrick-on-Shannon) 7.94, 3 Shane Aston (Trim) 8.32. 5,000m walk: 1 Alex Wright (Leevale) 18:50.70 (rec), 2.Cian McManamon (Westport) 20:06.21, 3 Brendan Boyce (Letterkenny) 20:09.28. Long jump: 1 Adam McMullen (Crusaders) 7.59m, . Keith Marks (Clonliffe Hrs) 7.05, 3 Ben Fisher (City of Lisburn) 6.96. Triple jump: 1 Antony Daffurn (St Ronan's) 14.83, 2. Jordan Hoang (Tullamore Hrs) 14.79, 3. Niall Counihan (Clonliffe Hrs) 14.25. High jump: 1 Ryan Carthy Walshe (Adamstown) 2.00, 2 Dion Ryan (Waterford) 2.00, 3 Adam Hill (City of Lisburn) 1.85. Pole vault: 1 Thomas Houlihan (West Waterford) 4.55, 2. Peter Glass (u/a) 4.55, 3 Conor Bermingham (Raheny Shamrock) 4.30. Shot: 1 John Kelly (Finn Valley) 17.02, 2 David Tierney (Leevale) 14.85, 3 Gavin McLaughlin (Finn Valley) 14.78
Enniscorthy 10km (515 finishers; www.redtagtiming.com)
Men: 1 Mick Clohisey (Raheny Sharmock) 29.59, 2 Valdas Dopolskas (Balbriggan and Dist) 30.35, 3 Kevin Maunsell (Clonmel AC) 30.36, 4 Alan O'Shea (Bantry) 30.38, 5 Robert Corbally (DSD 30.54, 6 Killian Mooney (DSD) 31.20. U20: Paul O'Donnell (DSD) 31.39. M40: 1 Brian Geraghty (RTE) 33.33, 2 Myles Gibbons (SBR) 34.11, 3 Ian McGrath 34.35. M50: 1 Tommy Payne (Tinryland) 35.45, 2 David Kehoe (Slaney Oly) 36.13, 3 Edwin Keville (Rathfarnham WSAF) 36.32. M60: 1 Richard Kavanagh (Sli Cualann) 43.11, 2 Vinny Clohisey (Raheny Shamrock) 45.15, 3 Joe Boland (Ashford) 45.56.
Women: 1 Meghan Ryan DSD) 36.47, 2 Sally Forristal (St Joseph's) 38.28, 3 Annaleigh Hoare (Kilmore) 39.42, 4 Emma Furey (StLOT) 41.17, 5 Lynn Duffy (Sli Cualann) 41.37, 6 Anne Marie Kenny (Sli Cualann, W40) 41.51. W40: 2 Suzanne Ryan (Rathfarnham WSAF) 43.15, 3 Vanessa Sallier (Rathfarnham WSAF) 43.21. W50: Jean O'Kennedy (Sli Cualann) 45.57. W60: Annis Kehoe (Slaney Oly) 56.27.
Tommy Ryan Carrigaline 5km (419 finishers; www.corkrunning.blogspot.com)
Men: 1 Mark Hoey (Leevale)  26:17; 2  Barry Donovan (Leevale)  26:26; 3 Alan O'Brien (Eagle AC )  26:37. Women: 1  Una Plant (Kinsale TC, W45) 32:12, Carmel Parnell  (Ledvale, W60) 32:26, 3 Lisa Hegarty (Leevale) 32:52.