T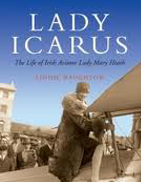 hank you  everyone for nice comments on the repeat showing of Donal Byrne's film on the  Limerick aviation pioneer Mary Heath shown on RTE's  Nationwide last night.
As a result of all the publicity this year (with another film in the offing), the first printing of  "Lady Icarus" is now sold out at this end, although I believe some copies are surfacing on the dreaded Am*zon; maybe try Kennys first. They're based in Galway and offer a brilliant service.
And of course, if any publisher out there is willing, I'd  be very happy to produce a second edition!
Copies of both "Markievicz – and Outrageous Rebel" and "Markievicz – Letters and Rebel Writings" published by Merrion Press are still available. As indeed are copies of "How to Mow the Lawn" and "Faster, Higher, Stronger – A History of Irish Olympians".