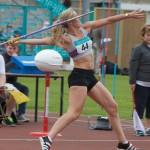 After a hard winter's training Irish javelin champion Anita White begins her campaign to qualify for the European Championships at the end of the month.
"I was able to take time off work thanks to a sponsorship deal with Vlogby, a video production company and the support I got from Beacon Face and Dermatology where I work.  It means that for the past nine months, I've been training full time and hopefully I'll get more help as the results come in. Athletes require a lot of back-up – physios, coaching, nutrition, travelling you name it!"
As well as four sessions with the javelin every week, White has been working with Damien Carey on her strength and conditioning or the past two years
There's a lot of travelling involved. "I meet my coach Louis twice a week in Carlow or wherever we can meet and I've been at throws squad sessions with Dave Sweeney in Tullamore. Most of the time I'm on my own but recently Bart Rogers based in Santry lends a hand and is always there to help. I don't mind working on drills by myself but it's important to have someone there to watch your throwing as it's such a technical event."
White, aged 33, took up athletics at the age of eight and started throwing javelin at 16. She won her first Irish national title in 2007 and has been unbeatable since then. Her finest moment came in 2013 when she threw 54.93m to break the Irish record at the National Championships in Santry – her second record of the year.
In 2014, a shoulder injury halted her progress and she underwent surgery in December 2014. It meant she didn't throw a javelin until the following June. "But I was training well and my target was the national championships. Some people may have been surprised that I could throw 51.56m less than a year after surgery but I wasn't."
Her aim now is to become the first Irish woman to throw over 60m. "I'm putting everything into it at the moment and I'm throwing 51m plus in training, so I know it's there. For the Europeans, the standard is 57.50 and I'm confident I can make that."
That adjustment came after a visit to Loughborough where Kimmo Kinnunen, the 1991 world champion from Finland, was holding a workshop. It gave White the chance to have her technique minutely examined. "Kimmo is brilliant technically and he pointed out a few things and gave me some drills. I'm already seeing a big improvement. It's not just about strength training but about using that strength."
First outing comes in Lucerne Switzerland on February 28 where she'll meet up with Irish javelin legend Terry McHugh. She'll also be competing at the annual Winter Throws meet in Arad, Rumania on March 12-13. "Yes, it's early in the season but I want to get my qualification in as early as possible."
LIZZIE LEE MAKES QUALIFYING TIME OR WORLD HALF MARATHON
With the spring marathon season looming, Ireland's marathon hopefuls face a busy few weeks.
Lizzie Lee of Leevale, who leads the list of women qualifiers for the marathon in Rio '196, was at the Enniscorthy 10k, seeking to nail down the qualifying time for next month's World Half Marathon, in Cardiff. Despite gusting winds and sleety showers, she made it with ease, missing out on the course record by just eight seconds, but still running a new personal best time of 33 minutes. Second was Sally Forristal of St Joseph's and third Rathfarnham's Donna Mahon running her first 10km in five years.
Winner of the race was international mountain runner Killian Mooney of DSD, aged just 20, whose time of 30 mins 56 secs was also a huge PB. Thomas Hayes of Kilkenny was second.
Lee's Leevale team mate Claire Gibbons McCarthy was in Spain where she ran a personal best 75 mins 18  secs at the Barcelona half-marathon. McCarthy, who only return to racing es in the New Year after a long period of injury is aiming for a Rio '16 qualifying mark over the next few months.
Raheny's Mick Clohisey, who is third in the men's marathon rankings for Rio, aims to improve on his time of 2:15.35 from Berlin last September at Sunday's Seville Marathon. The course in Seville with only 10 metres of elevation is reputedly the flattest in Europe. Also running is Clonliffe's Barbara Sanchez, who ran 2:42.43 in Valencia last November. Third in the women's rankings is Breege Connolly of North Belfast Harriers on 2:37.29 from London last year, who has yet to race this year.
Fionnuala McCormack of Kilcoole,who, like Lizzie Lee, is sure of her place at the Rio Olympics, is keeping it local. The Wicklow-based athlete is expected to take a turn around the course at Saturday's Wicklow Hospice Half Marathon on a hilly course in Rathdrum. The charity is close to her heart; also lining out will be Deirdre Byrne of Sli Cualann and a large number of local athletes and fun runners.
MAGEEAN, TRAVERS, COGHLAN FOR MILLROSE GAMES
Ciara Mageean of UCD and Donore's John Travers line out in the mile races at Saturday's 109th Millrose Games in New York. Last weekend, Travers ran a personal best 7:55.05 to finish 2nd in the 3000m at Boston, blitzed the final 200m in 28 secs. He then did pacemaker for a mile, dropping out half way through in under 1 mins 55 secs as instructed. He goes in the Armory Invitational Mile, along with John Coghlan of MSB Mageean, who failed to finish the women's 3000m in Boston runs in the women's Wanamaker Mile.
On a good weekend for indoor athletics, long jumper Adam McMullen of Crusaders improved his best to 7.83 m in Ghent. At the Irish Universities Championships, Marcus Lawler representing IT Carlow won the 200m in a new colleges record of 21.03 secs, with 400m hurdler Thomas Barr of UL  second in 21.47 secs. A closely fought 60m hurdles saw Antonia Garcia Fernandez of DCU pushed to a record time of 8.13 secs by his team mate Matt Behan who ran 8.14 secs. There was also a record in the combined events (four disciplines) for Michael Bowler and the 4×200 won by a UL squad that included Barr.
Women's records were set by Jemma Bromell of  UL with 54.66 secs in the 400m and Sarah Buggy of DCU who won the triple jump with 12.68m
HEHIR, HEASLIP WIN INTERCOUNTIES
Winning the senior races at a poorly-supported Glo Health National Intercounties in Tuam were Sean Hehir of Rathfarnham WSAF and Riocht's Shona Heaslip. Eimear Fitzpatrick  of DSD won the junior girls race; Darren Ryan of Lusk came home first of the junior men. Only four counties – Galway, Mayo, Kerry and Donegal sent teams. Have we seen the last of a separate intercounty championships?
WORLD 24-HOUR FOR BELFAST
Belfast will host the 2017 IAU 24-Hour World Championships on July 1-2 in Victoria Park. with about 300 athletes from 45 nations expected.
The annual Energia 24 race will switches from the Mary Peters' track to the 1.7K circuit at Victoria Park this summer for a 'dress-rehearsal' on June 25/26. Best Irish performance at a World Championship as been a 5th from Cork's Eoin Keith in Bergano in 2009(237kms/147 miles) and a 7th from Cork's Ruthann Sheahan in Katowice in 2012 (229kms/142 miles).