Mark Hanrahan of Leevale led home a large Irish contingent at today's Rotterdam Marathon. Hanrahan's time of 2:19.52 saw him finishing 34th. He went through half way in 68 mins 28 secs and slowed down after the 30km mark.
Finishing 39th in 2:2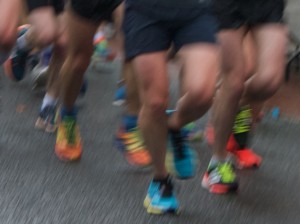 1.47 was Eoin Callaghan of Star of the Sea. Tallaght's Tomas Fitzpatrick was 56th in  2:25.23, with Neil Wiktorski of Sli Cualann 64th in 2:26.41.
Best of the Irish women was Rathfarnham WSAF's Caitriona Jennings in 2:44.33, which is inside the Rio '16 qualifying standard of 2 hrs 45 secs. Mayo's Norah Newcombe Pieterse  was 6th W35 in 2:53.11. There were some good results in the age groups, with John Byrne of Mayo 5th M40 in 2:30.44; Florence Curley of Donore Harriers 6th W40 in 3:07.49(chip); Eddie Newman of Mullingar Harriers 5th M50 in 2:45.23, James Cottle 10th M55 in 3:03.44 and Galway's Martin Kearney 5th M60 in 3:05.38.
Race winners were Marius Kipserem of Kenya in 2:06.11 (men) and Leterbrham Haylay Gebrelasea of Ethiopia in 2:26.15 (women).  Winning the W60 class was pioneering marathon runner  Chantal Laglace of France. She finished in 3:10.35.
MICK CLOHISEY of Raheny Shamrocks and Kilcoole's  Fionnuala McCormack won the National 10km in Dublin's Phoenix Park. Clohisey's time of 30 minutes  exactly also put him second overall in the Great Ireland Run; conditions were tough and the course had never been a fast one. McCormack finished in 33 mins 20 secs and was first woman overall.  Winning the W60 category in a remarkable time of 39 mins 57 secs was many times world masters champion Carmel Parnell. DSD  finished best in both men and women's team categories, where Dublin clubs filled all three places in both senior categories.  John Travers of Donore won the elite mile in 4 mins 11 secs. Cathal Doyle of St S Aidan's CBS and Clonliffe Harriers won the schools' mile in 4:32.
IN BELFAST,  Thomas Frazer of St Malachy's  and  Newcastle's Kerry O'Flaherty  were the winners of a well-supported Titanic 10k, with Letterkenny's Anne Marie McGlynn  was a close second in the women's race, while Gary Murray was second of the men.
BRYAN KEANE finished 24th at the World Triathlon Series round at Jewel Gold Coast, Australia, in a time of 1:49.26, which will do his position on the rankings table no harm at all. Keane currently lies 54th on the Rio ranking table and, at the very least, must be ranked 55th by 15 May to be considered for a place. He completed the 1500m swim in 16:55, the 40km cycle in 58:54 and the 10km run in 32:48. Ben Shaw was 42nd in 1:52.20.
Sunday April 12
Spar Great Ireland Run/National 10km C'ships, Phoenix Park, Dublin www.athleticsireland.ie  (first 50 men and women on  Twitter feed)
10km (264 finishers) – Women: 1 Fionnuala McCormack (Kilcoole) 33.30, 2 Deirdre Byrne 34.41, 3 Maria McCambridge (DSD) 34.52, 4 Sophie Cowper (Lincoln Wellington) 35.22, 5 Emma Clayton (Leeds City) 35.23, 6 Sarah Mulligna (DSD) 35.41, 7 Rebecca Moore (Worthing and Dist) 35.48, 8 Laura Shaughnessy (DSD) 36.05, 9 Luara Jane Day  (Notts AC) 36.06, 10 Regina Casey (GCH) 36.55. Teams – 1 DSD, 2 Sportsworld, 3 Rathfarnham WSAF.
Men (240 finishers): 1 Andy Maud (Highgate) 29.55, 2 Mick Clohisey (Raheny Shamrock) 30.00, 3 Kevin Maunsell (Clonmel ) 30.23, 4 Owen Hind (Kent) 30.28, 5 Jamie Roden (Sale Hrs) 30.33, 6 Dan Wallis (NZ) 30.37, 7 Brandon Hargreaves (DSD) 30.46, 8 Paddy Hamilton (Slieve Gullion)  31.04,  9 Joe Sweeney (DSD) 31.07, 10 Rob Samuel (Eryri AC) 31.21, 11 Colin Maher (Ballyfin) 31.32, 12 Liam Brady (Tullamore Hrs) 31.57, 13 Ben Thistlewood (Leevale) 32.06, 14 Eoghan McGinley (Rathfarnham WSAF) 32.39, 15 Killian Mooney (DSD) 32.41. Teams – 1 DSD, 2 Rathfarnham WSAF, 3 Crusaders.
Elite Mile – 1 John Travers (Donore) 4:11, 2. John Ashcroft (GBR) 4:13, 3 Philip Seseman (GBR) 4:16.
Titanic Quarter 10km, Belfast. Full report www.nirunning.co.uk/news
Men: 1 Thomas Frazer (St Malachy's AC) 30:48, 2 Gary Murray (Clonliffe Hrs) 30:53, 3 Chris Madden (City of Lisburn AC) 31:31
Women: 1  Kerry O'Flaherty (Newcastle) 34.17, 2 Anne Marie McGlynn (Letterkenny) 34.31, 3 Laura Graham (Mourne Runners) 35.27, 4 Glady Ganiel O'Neill(NBH)
Connemara International Marathon, Maam Cross, Co Galway (No places given; www.connemarathon.com)
Marathon (about 500)– Men: 1 Dariusz Monkievicz 2:53.21, 2 Derrick Leahy 3:05.30, 3 Niall Lynch (M40) 3:07.29. Women: 1 Noeleen O'Malley 3:26.58, 2 Sarah Baryga 3:30.09,3 Anne Lees 3:31.47. W40: Sorcha Kearney 3:36.12.
Half marathon  (about 1,200)– Men: Thomas Lane 81.26, 2 Christian Martinez Munoz 81.42, 3 Ian Kinsella 81.55. M40: John McEnri 86.45. Women: 1 Catherine Malloy 89.21, 2 Neasa de Burca 98.01, 3 Nataliya Kovalova 99.38.
Ultra (about 130 finishers) – Men: Keith Whyte 4:31.15, 2 Stephen Connon 4:36.10, 3 Jerome Debize 4:40.20. Women: 1 Mieke Dupont (W40) 5:16.11, 2 Sandra McKeever (W40) 5:22.10, 3 Katja Rakuscek(W40) 5:25.03.
Saturday April 11
Hills: Glacier Lakes Relay and Solo 42km, Co Wicklow. www.imra.ie
1 Brian Flannelly, Bernard Fortune, Gareth Little, Mikey Fry 4 hrs 4 mins 55 secs (rec), 2 Martin McDonald, Gerry Brady, Desi Shorten, Mags Greenan 4:12.47, 3 James Haynes, Ben Mangan, Christoph Rohrmeier, Jonathan Quinn 4:14.31, 4.Suzanne Kenny, Don Hannon, Liam Vines, Anthony Whelan 4:19.
Solo – Men: 1 Adrian Hennessy 4 hrs 35 mins, 2 Shane Lynch. Woman: Meike Jurgen.