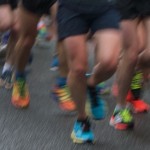 Leevale's Clare McCarthy finished 12th in today's Prague Marathon in a time of 2 hrs 42 ins 4 secs (or four seconds faster on the chip timing) – inside the qualifying mark for the Rio Olympics.  Winner was Lucy Karimi from Kenya in 2:24.44.Galway's Gary Thornton dropped out of the men's race, won by Lawrence  Cherono, also Kenya, in 2:07.24.
SARAH MULLIGAN of DSD was the only woman left standing at the Wings for Life run from Dun Laoghaire  Mulligan ran a total of 46.64km before the finish line caught her (as the race organisers put it). First home was London-based Kiwi Paul Martelletti, whose distance of 73.77 km put him sixth in the world rankings. Martelletti  is a man with a  2: 16 marathon best who ran 64 mins 54 secs at the Brighton Half Marathon last February and then headed for Iten in Kenya for altitude training. In England, at the Cambridge version of the run, Caitriona Jennings of Rathfarnham WSAF ran 55.08km before the chasing vehicle caught her. That put Caitriona 9th best on the world rankings for the race.
Sunday May 8
Wings for Life, Dun Laoghaire to Greystones
Men: 1 Paul Martelletti (M35) 73.77,2 Robert Latala (Pol) 54.60,3 Florian Grasel 53.30…6 Don Travers 48.48, 8 Jonny Steele 47.05. 10 Brian McMahon (Clonliffe) 45.66. M45: Dominic Horan (Sli Cualann) 42.30.Women: 1 Sarah Mulligan 45.64km, 2 Sandra Lynch (Kilcoole, W35) 37.65, 3 Laoise Thuama 37.09. W40: Katherine Teeling 34.10.