Organising club Cloniffe made a clean sweep of the top three men's places at the ERP Christmas Cracker 5k around Santry this morning.
First home was Adam O'Brien who led from early in the race and finished in 15 mins 47 secs. His club mates Sean O'Leary and Liam Roarty finished second and third.
DSD's Maria McCambridge was the class of the women's field finishing tenth overall in 16 mins 53 secs. Behind her came Isabel Carron of Skerries and Raheny's Annette Kealy. McCambridge's husband Gary Crossan was first M40.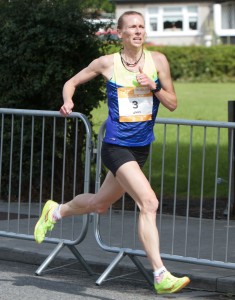 First juniors were Craig Giles and Alannah Cooley in a Clonliffe double.
RAHENY'S Simon Ryan was the winner of the Robbie Byrne Navan 5km in a time of 16 mins 5 secs, beating English visitor Scott Hazell a member of Coventry Godiva. Andrew Kinane of Donore finished third. Bohermeen's Liam Murray was first junior and fifth overall., with Paul O'Donnell of Tara first M40 and David O'Connell of Bohermeen first M50.
First woman was Charlotte Kearney of Donadea in 18 mins 4 secs. Ciara Rooney of Navan was second in 18:39 and Mary Hanley of Na Fianna third overall and first W45. Full results www.myrunresults.com.
WINNING the East of Ireland Howth Marathon in a course record time of 2 hrs 44 mins 50 secs was Kevin English who was making his marathon debut.
JAMS MCCARTHY of East Cork and Riocht's Shona Heaslip were the winners of the Togher 5km in Co Cork.  McCarthy clocked a time of 15 mins 26 secs to beat Ruairi Casey of Togher and Leevale's David Fox. Heaslip finished sixth overall in a fast time of 16 mins 27 secs. Second in 17:8 was Emma Murphy of St Finbarr's with  Teresa Murphy of Kent AC third in  18 mins 16 secs. A total of 433 runners turned out. Link to full result at www.corkrunning.blogspot.com.
Tuesday December 27
ERP Christmas Cracker 5km, Santry
Men: 1 Adam O`Brien (Clonliffe) 15.47, 2 Sean O'Leary (Clonliffe) 16.14, 3 Liam Roarty (Clonliffe) 16.15. Jun: 1 Craig Giles (Clonliffe) 17.19, 2 Ciaran Crowther (Tallaght) 17.30, 3 Daragh Carter (Clonliffe) 18.20. M40: 1 Gary Crossan (DSD) 17.16, 2 Shane Larkin 17.30. M50: 1 Conor O`Reilly 18.40, 2 Niall Markey (Clonliffe) 19.18. M60: 1 Matt Cooley 26.41, 2 Gerard Murphy 34.49. M70 Roy Corry (Willowfield) 25.00
Women: 1 Maria McCambridge (DSD, W40) 16.53, 2 Isabel Carron (Skerries) 18.04, 3 Annette Kealy (Raheny, W45) 18.14. Jun: 1 Alannah Cooley (Clonliffe) 20.04, 2 Nora-Beth Collins 24.36, 3 Aoife Gleeson 24.54. W40: 1 Suzanne Ryan 20.41, 2 Laura Kiernan (Clonliffe) 21.42. W50: 1 Mary Purdue-Smith (Raheny) 23.31, 2 Catherine Gilmore 23.34