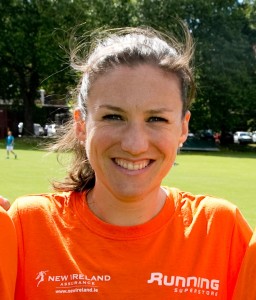 Caitriona Jennings  of Rathfarnham WSAF  finished fourth at the IAU World 50km Championships in Doha, Qatar with a time of  3 hrs 31 mins 49 secs. USA's Camille Herron won the race in 3:20.58.
Jennings, who ran in the Olympic marathon in London 2012, only returned to athletics earlier this year after a frustrating series of injuries and a few years concentrating on rowing. Now aged 35, she won the Lisburn Half Marathon last June in 81 mins 17 secs. Her best (open to correction here) for the distance is 79 mins 12 secs. Her marathon best was 2:36.17 from Rotterdam in 2012
Best of the Irish men was Clonliffe's Gary O'Hanlon  who finished 11th in 3:07:50. Barry Minnock  of  Rathfarnham WSAF was  21st in 3:16:35 . Race winner was Tony Migliozzi  of the USA in 2:52:08.
In case anyone is interested: Catriona's 50km time  equated to a 2:54.37 marathon, Gary's time is the equivalent of  a 2:34.51 marathon and Barry's  a 2:42.04 marathon.