Shona Heaslip of An Riocht and Brian Maher of Kilkenny City Harriers came out on top at the National 10km Championships, held in conjunction with the Great Ireland Run in Dublin's Phoenix Park today (April 15).
Heaslip crossed the line in 34:52, with Kerry O'Flaherty of Newcastle AC second in 35:00 and DSD's Laura Shaughnessy third in 35:15. In the Great Ireland Run, Heaslip and and O'Flaherty finished first and second ahead of British visitor Gemma Steel who ran a time of 35:08.
In the team competition DSD's team of Shaughnessy, Bethany Murray and Claire McGovern beat the Galway City Harriers trio of Regina Casey, Sinead Brody and Tara Whyte for the title. Third was Sportsworld's team of Sinead Tangney, Ciara Brady and Maria Jones.
Maher, who was also first M40, took the men's title in 30:20, with Raheny's Mick Clohisey second in in 30:22, and Sergiu Ciobanu of Clonliffe Harriers third in  30:23. British visitor Oliver Lockley won the Great Ireland Run, just pipping Maher with a time of 30:18.
Taking the men's senior  team title was Raheny Sharmock, led by Mick Clohisey with Daire Bermingham, Kevin Moriarty and Dermot Gorman the three other counters. North Belfast Harriers finished three minutes behind for second with Rathfarnham WSAF, led by marathon man Sean Heheir, third.
Of the masters, Dunboyne AC's team of Jane Bandila, Emilia Dan and Claire Ni Fhaircheallagh won the W35 age group from North Sligo and Westport AC, with a total of 57 teams entered. Winning the W50 category were Orla Gormley, Adrienne Atkins and Mary Lynch for Raheny Shamrocks. Mayo AC was second and Galway City Harriers third.
Taking the M35 title was the Donore Harriers' team of Rossa Hurley, Niall Lynch and Sean Fox. North Sligo was second and Sportsworld AC third and a total of 61 teams entered – the biggest of the day. Inishowen AC from Co Donegal, led by Pauric McKinney, proved best of the M50 teams, with Mullingar Harriers second and Rathfarnham WSAF third.
Around 4,000 lined out in the race, which is a British franchise.
Internationally, Kevin Seaward finished fourth in the marathon at the Commonwealth Games in Brisbane with a time of  2:19.54. Temperatures reached 30 degrees. Paul Pollock did not start the race because of a stress fracture diagnosed in the last few days.
National 10km –
Men: 1 Brian Maher (KCH, M40) 30.20, 2 Mick Clohisey (Raheny Shamrock) 30.22, 3 Sergiu Ciobanu (Clonliffe Harriers) 30.23, 4 William Maunsell (Clonmel AC) 30.39, 5 Peter Somba (Dunboyne AC) 30.46, 6 Tomas Fitzpatrick (Tallaght AC) 30.46, 7 Sean Hehir (Rathfarnham WSAF) 31.02, 8 Eric Keogh (Donore Hrs) 31.14.
Women: 1 Shona Heaslip (An Riocht 34.52, 2 Kerry O'Flaherty (Newcastle AC, W35) 35.00, 3 Laura Shaughnessy (DS) 35.13, 4 Teresa Doherty (Finn Valley) 35.35, 5 Catherina McKiernan (Annalee AC, W45) 36.28, 6 Bethanie Murray (DSD) 36.33, 7 Siobhan O'Doherty (Borrisokane AC) 36.48, 8 Ashley Pia Ryan (Civil Service Harriers) 36.54.
TRACK AND FIELD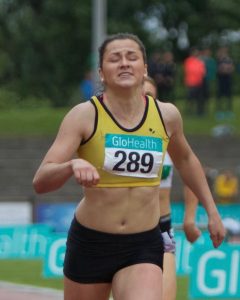 Sean Tobin of Clonmel AC running for Ole Miss finished a close second  behind team mate Robert Domanic in the 1500m  at the Joe Walker Invite in Oxford, Mississippi on Saturday. Tobin's time was 3:42.82; Domanic clocked 3:42.32.  Last February, Tobin ran a personal best indoors of 3:41.87.
Highlight of the Irish Universities Track and Field championships held at the Mary Peters Track in Belfast on Friday and Saturday were records in the 100m and 200m for Phil Healy representing Waterford IT.
Healy ran a time of 11.55 secs in the 100m semi-finals and took the title with a time of 11.99 secs. In the 200m, she ran a personal best and European Championships qualifying time of 23.31 secs in the semi-finals and won the final in 23.64 secs.
Other women's winner included Molly Scott of IT Carlow, 100m hurdles with a time of 13.96 secs; Cliodhna Manning of DCU, 400m in 54.24 secs, with Sophie Becker, also DCU, second in 54.61; Una Britton of DCU, 5000m in an untroubled 17:38.70, and Ciara Maguire of DCU, hammer with 52.13m.
Highlight of the men's competition was a 110m hurdles record of 14.16 secs for Matt Behan of DCU. There was also a new record of 65.95m in the javelin for Jack Magee of UU; second was combined events champion Shane Aston of DCU with 57.29m.
In the men's 100m final, Travane Morrison of IT Tralee was the winner in 10.56 secs with Marcus Lawler of Carlow IT second in 10.73 secs. That result was reversed in the 200m won by Lawler in 21.07 secs with Morrison second in 21.17 secs. Winning the 400m with a time of 47.74 secs was Andrew Mellon of host college Queen's. Keith Marks of DCU won a closely fought long jump with 7.08m; second was Sam Healy of UCC with 6.99m. Marks also won the high jump with 1.90m. Winning the triple jump with 15.24m was Mark Burton of QUB. John Kelly of LYIT proved best in the shot with a 16.16m heave, while Eoin Sheridan of DCU took the discus title with 50.23m, and Adam King of DCU the hammer with 60.18m.
Overall DCU won both men and women's titles, beating AIT in the women's competition and UL in the men's and taking the combined title ahead of UL and UCD.
MORE ROADS
Also on Sunday, Alan O'Shea of Bantry AC was a comfortable winner of the Karen Fenton Memorial 5km in a time of 15 mins 48 secs on Sunday (April 15) Second was Kieran McKeown of Watergrasshill AC in 17:23. First woman and first W40 was Rosaleen MacKeown of Leevale ACC in 19:46; Sorcha Kearney of St Finbarr's was second in 20:05. There were 694 finishers. Results www.myrunresults.com.
In Donegal, Danny Mooney of Letterkenny AC outsprinted Conor Bradley from City of Derry to win the Convoy 10km in 32 mins 10 secs. Eoghan McGinley of Letterkenny AC was third. First woman was Maria Ni Mhaolagain of Letterkenny AC in 38:11.
Alan O'Brien and Marie O'Sullivan were the winners of the GNI BHAA 5-Mile in Cork on Saturday (April 14). O'Brien (McCarthy Insurance Group) finished first in 25:49, followed by Colin Merritt (Army, M45) in 25:57 and Barry Donovan (Kerry Group) in 26:07. Marie Kissane (Eli Lilly, W35) finished in 35:04, followed by Marie Condon (guest) in 35.35 and Sharon Woods (guest) 35.51.A total of 320 completed the race; full results. www.corkbhaa.com
On Friday evening, Conor Dooney of Raheny Shamrock broke his own course record at the Butlerstown 4 mile road race. in Co Waterford. Dooney, who has won the race twice, finished in 19 mins 11 secs, smashing his own winning time of 19:23 from last year. A distant second was East Cork's Kevin O'Leary in 21:15, while third was Raivis Zakis of West Waterford in 21:26.
The women's course record also went when Sally Forristal of St Joseph's came home in 23 mins 46 secs, beating Martina O'Dwyer's 2014 record by four seconds. Adele Walsh of St Senan's was second in 24:05 and Jackie Carthy of Kilmore third in 24.28.